The FIA determined that Hamilton was responsible for a minor collision with Perez while they were competing for position in the wet first part of the sprint race at Paul Frere.
The contact between the Mercedes and Red Bull left Perez with a hefty amount of damage, and the Mexican later retired from the race.
Perez and the FIA believed Hamilton was at fault, but Wolff believes his driver acted appropriately.
Wolff stated that it was an undeniable racing incident. He emphasized that since it was a sprint race, the focus should be on witnessing the drivers competing. The argument regarding the damage caused is not relevant as Perez had already started moving in the opposite direction, and to a great extent.
"I believe that when observing that particular corner, both parties were positioned next to each other. While it is true that both individuals played a role in the situation, it can be considered an incident that occurred during the race. From my perspective, this is quite evident."
After the collision with Perez, Hamilton managed to continue racing and ultimately finished in fourth position. However, he was unable to overtake Pierre Gasly, who finished in third place.
Nevertheless, Hamilton's position plummeted to seventh place at the end of the race due to the imposition of a five-second penalty.
What the FIA said about the penalty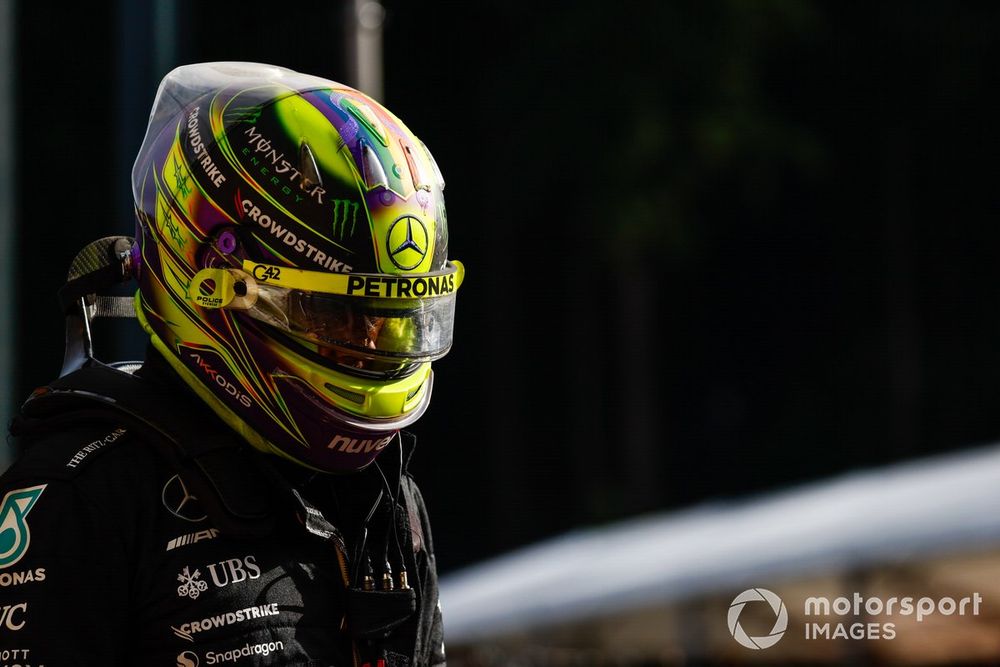 Lewis Hamilton, Mercedes-AMG, in Parc Ferme after the Sprint
Photo by: Sam Bloxham / Motorsport Images
In spite of challenging and precarious driving conditions at the beginning of the sprint race, the FIA stewards expressed their belief that Hamilton had the ability to prevent the collision.
The stewards explained their decision to penalize the seven-time world champion by stating that Hamilton veered off course and collided with Perez after coming into contact with the kerbs.
The stewards mentioned that Hamilton was trying to overtake Perez from the inside at Turn 15. They noted that Perez didn't leave much space for Hamilton on the inside, but Hamilton ended up driving onto the kerb and sliding into Perez due to the wet conditions.
The Stewards determine that Hamilton bears the primary responsibility for the collision and impose a 5-second penalty.
Hamilton received a five-second penalty for the Perez incident, and additionally, he was issued two penalty points on his license. These are currently his only points.