Therefore, the F1 driver from Red Bull reached the timing line in Q3 with only seven seconds remaining, although their time was 0.02s slower than their previous attempt.
That left the door open for Lewis Hamilton. In a shootout where track evolution was pronounced, he was the last person over the line and bolted to a 1m16.609s. That returned his 104th pole position and prevented Verstappen from snaring a sixth in a row. The Mercedes racer had hustled the W14 round the 2.72-mile Budapest lap 0.023s quicker than Verstappen's final lap and 0.003s better than his rival's best.
Where Hamilton pulled ahead of Verstappen
Verstappen bemoaned the Alternative Tyre Allocation experiment come the end of Friday practice. He reckoned the mileage-limiting, tyre-saving incentive had left Red Bull to not fully understand its extensive upgrade, the RB19 having gained revised sidepod inlets, engine cover, floor edge and front and rear brake ducts. Exacerbated by wet weather disrupting FP1, he had been unable to find the balance sweet spot.
The GPS data from Verstappen's best lap in Q3 – a 1m16.612s set with seven minutes remaining – gives him the slight edge over Hamilton into Turn 1. The RB19 carries an extra 1.25mph before hitting the anchors, although there's virtually nothing to split the duo on the brakes. At the apex, Hamilton runs 2.5mph faster although that's not enough to keep pace with Verstappen, who holds a 0.043s delta at the mid-point of the right-hander.
However, this small advantage doesn't last long. Verstappen makes a slight correction and eases off the throttle. When he accelerates again, he falls behind the Mercedes by 0.117s. Hamilton manages to maintain that lead until Turn 2, but Verstappen retaliates and turns it into a 0.051s advantage by entering the turn 5mph faster. Nevertheless, he struggles with power as Hamilton takes advantage of the shorter straight to regain the lead by 0.04s.
At the bottom of the circuit, near Turn 5's exit, there is not much difference between the two. However, Verstappen's lap starts to deteriorate. He loses approximately 0.178s while going through the chicane. The onboard camera doesn't show much, suggesting that Verstappen might be playing it safe during the change of direction. Nonetheless, there are no significant incidents.
The top three qualifiers are Lando Norris from McLaren, Lewis Hamilton from Mercedes-AMG who secured pole position, and Max Verstappen from Red Bull Racing.
Photo by: Glenn Dunbar / Motorsport Images
The GPS data makes it look a little more dramatic. Hamilton is close to 9mph faster on entry and choses to downshift another gear to third. Verstappen holds it in fourth, but his revs drop out of the power band. This might also encourage a little more understeer. Either way, it results in the reigning two-time champion falling behind Hamilton for the rest of the lap.
Hamilton's assertiveness upon entering aligns with Mercedes motorsport manager Toto Wolff's statement that his driver now possesses trust in the vehicle as they approach Q3.
Verstappen reduces his time by 0.04 seconds as he approaches Turn 12, and then further narrows the gap to 0.058 seconds by achieving a higher top speed on the straight before braking more efficiently than Hamilton. However, the RB19 loses control again when Verstappen accelerates, and he suffers the consequences of losing 15mph compared to Hamilton during the brief burst of speed into the last corner.
Verstappen successfully navigates Turn 13, causing the gap to decrease to 0.215s. The Honda engine, now rebranded, performs at its best and helps Hamilton's lead diminish to just 0.003s.
Why Verstappen failed to improve in Q3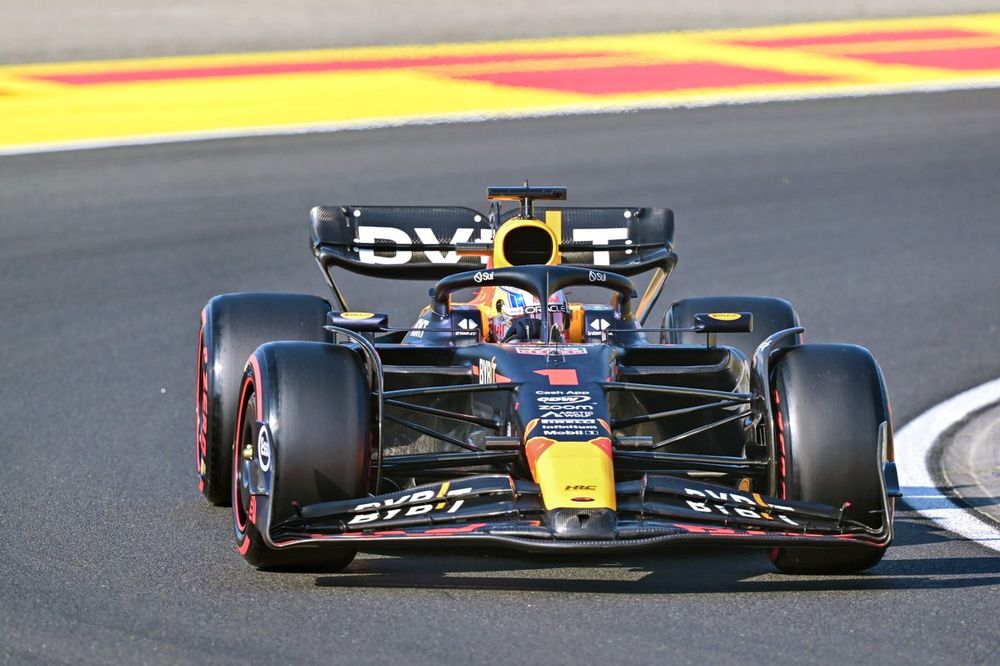 Max Verstappen, Red Bull Racing RB19
Photo by: Michael Potts / Motorsport Images
Given Verstappen's messy Turn 1 exit during his first attempt in Q3, his second go is more convincing. He recovers the small 0.04s deficit that came from hitting a lower top speed at the end of the main straight. His apex of Turn 2 isn't as strong, however, and this means he's 1.5mph slower down the hill to Turn 4. It's marginal, but his first sector is 0.042s worse off.
Verstappen promptly corrects this and gains a 0.09-second advantage in Turn 5. Although he attempts the chicane again in fourth gear, a neater execution results in his second lap being 0.15 seconds faster. He continues to make progress in the second sector, particularly in the more spacious Turns 9-11, ultimately surpassing his previous best time by 0.239 seconds.
However, he negates his diligent efforts in the last two turns. This time, he decelerates more rapidly, resulting in a 5mph decrease in speed as he approaches the apex of the second-to-last left turn. As a result, his advantage in the second Q3 lap diminishes to 0.105s. Additionally, Verstappen delays his acceleration significantly after exiting the final corner, causing his final sector to fall behind by 0.217s.
The lap time Verstappen was actually capable of
Neither Verstappen nor Hamilton achieved their theoretical fastest lap in Q3. It was left to McLaren driver Lando Norris, who qualified in third place courtesy of a 1m16.694s, to stitch together his three fastest sectors at the death. Hamilton, meanwhile, might have found another 0.039s had he matched his time through the final sector from his first Q3 lap.
Verstappen, however, was far more wasteful. Had he repeated his earlier times through the first and final sectors when it came to his second flying lap and added that to his 27.044s dash through the middle part of the lap, the clock would have stopped at 1m16.373s.
In simpler terms, the Red Bull driver may have been 0.197s faster than Hamilton's flawless lap and possibly 0.236s ahead of what the Mercedes driver achieved in the crucial moment.